Dear Friends of LeQuest,
April 13 marks the exact day that LeQuest launched 10 years ago. This is a time of reflection for me but most importantly, an opportunity to recognize and thank our entire community for their trust and confidence in us.
Gratitude is the base of my foundation and it is on that note that I reach out to all of you on this special day.
I am grateful for growing up in Africa, where I was one with nature, where time was not a limitation. It was during this period of my life that I experienced what it is to be free of all worries. To ensure that healthcare professionals feel empowered and free of worry when handling medical equipment is what I fight for every morning when I wake up to work.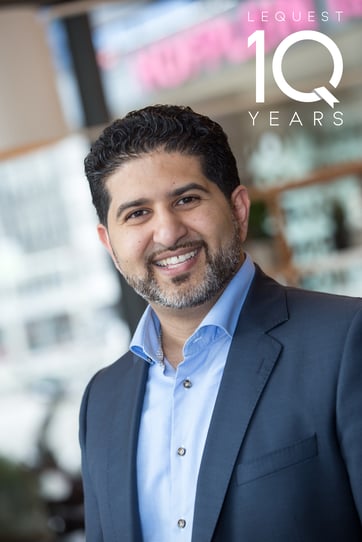 I am grateful for settling down in the Netherlands, a digital innovation hub that empowers and celebrates start-ups, scale-ups and tech-savvy entrepreneurs. Thanks to this vibrant ecosystem of dreams turned reality, I had the opportunity to create an organization based on my dream with LeQuest being recognized as one of the 250 fastest-growing companies in the Netherlands last year.
I am grateful for that day, over ten years ago, when I stepped into an operation room and witnessed how powerless a patient can be in the hands of a professional that is not well trained. It was thanks to that incident that I decided to shift my career completely around and dedicate my journey in life to improving patient safety.
I am grateful for the personal and professional lessons of these past ten years: it takes a lot of persistence, dedication, focus and sacrifice to build a company that never gives up and focuses only on possibilities.
For that, I can only thank all LeQuesters – our devoted employees who come from all walks of life and go above and beyond in their responsibilities. I am merely a very small part of what makes up the anatomy of LeQuest. Today we proudly house a multi-cultural family of the finest front and back-end developers, designers, medical device analysts, sales managers as well as Marketing, HR and Finance executives. With no less than 23 nationalities you can only imagine how amazing our potluck lunches at work are. That too, I am very grateful for.
Above all, I am grateful for our ever-growing community of partners and clients from across the globe who are at the front and centre of LeQuest's success. Our sole dedication these past ten years has been to perfect the simulation-based e-trainings so that healthcare professionals have the most immersive training experience they can possibly get, where skills, process and knowledge in handling high-risk medical devices are highlighted in a way that reality will not allow. After all, there's no room for failure in the real world. It is with LeQuest's e-trainings that doctors, surgeons and nurses have the freedom to explore, experiment and repeatedly apply new knowledge in a risk-free way that is the closest to reality they'll ever get – without risking a single life.
Today we have trained, certified, and accredited over 10,000 healthcare professionals worldwide and sold more than 20,000 licenses for 80 simulation-based e-trainings. Your loyalty and your own dedication to continuously strive for improved patient safety is the reason for our growth and success – we are in this together.
I am grateful that we never deviated from this mission and that we will continue to dedicate many more decades in pursuing innovative ideas to take LeQuest and patient safety to the next level.
I could not end this letter without a word of gratitude to all our shareholders and investors who have always trusted our vision. I want to give a special mention to a very dear professor at the university of Amsterdam who is sadly no longer with us. At a time that LeQuest was struggling financially many doubted I could keep it afloat and go into that growth phase that we needed so badly in order to make a difference. It was at this time that he said to me that he wanted to invest in LeQuest. Having experienced life in a hospital himself while battling leukemia, he understood the problems LeQuest was trying to tackle. I still needed to understand why a professor in risk management would be willing to invest at such an early stage, so I asked him, to which he replied: "Hicham, risk management is not about avoiding risk, it's about understanding and managing risk but also understanding rewards, and I believe in what you're doing and the impact you're going to have in the healthcare industry."
That was a moment I will never forget.
Thank you all – including my beloved family – for standing by me and LeQuest throughout these years.
I look forward to co-creating another amazing ten years with you.
Hicham Shatou