Erasmus MC, one of the world's most renowned hospitals, unveiled a new and innovative way of training that enables radiographers and technicians to master the use of the Siemens Cios Alpha device via simulation-based technology.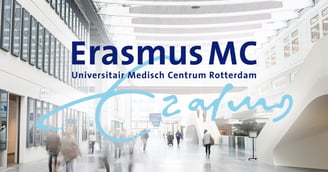 Created and developed in partnership with LeQuest, world leader in simulation training for safe use of medical devices, the Cios Alpha simulation training is being rolled out to Erasmus MC's entire Radiology division, comprising of over 250 healthcare professionals, including 100 radiographers
The simulation training of the C-Arm device has been developed with novice users in mind to gain full confidence in handling the use of it, quickly and efficiently. Experts also profit by better mastering the equipment without putting a patient at undue risk. Upon successful completion of the training all trainees receive a certification.
Together with LeQuest, Erasmus MC will be conducting research alongside to evaluate the efficacy of simulation training in improving knowledge and performance level of radiologic technologists in handling the C-Arm.
Choice was a no-brainer
"Aligning innovation in healthcare with Erasmus MC's overall mission to pursue excellence through research and training was what kicked off our talks with LeQuest. We see medical education and training technology advancing at lightning speed, so it was a logical next step for us to reach out directly to the best in the field when it comes to simulation training for the safe use of complex medical devices." said Professor Aad van der Lugt, Director of Research & Education.
Precise and effective
"When we approached LeQuest about developing a simulation e-training for the Cios Alpha, we knew we were redefining the way our staff is trained," said Bert Huijbens, Manager Radiology. "It wasn't until we saw the result that we realized just how precise and impactful simulation technology is. This simulation training is a valuable addition to our standard form of training."
HANDS-ON CONFIDENCE
"Proven competence in handling medical devices is in high demand. The simulation technology we offer encompasses a range of immersive learning experiences where the user has the freedom to make mistakes and learn from them in a safe, online environment that mimics the actual device. The fact that it can be done anytime, anywhere makes it readily accessible," said Hicham Shatou, CEO of LeQuest.
"At the end of the day it's knowledge-in-action which significantly boosts the person's confidence in handling the equipment in real life and ultimately contributes to increased patient safety and a more effective and efficient healthcare."
Golden opportunity
"This is a golden opportunity to further prove in which ways LeQuest's simulation trainings significantly empower healthcare professionals and we couldn't be more grateful to be doing this together with one of the best hospitals in the world." concluded Hicham Shatou, CEO of LeQuest.



---
Erasmus MC is the largest University Medical Center in the Netherlands. Erasmus MC's primary goal is the establishment and maintenance of a healthy population. Nearly 14,000 employees devote themselves to providing outstanding care, facilitating world-class education and conducting pioneering research. These professionals are instrumental in developing expertise on health and illness. They link the latest scientific insights to practical treatments and prevention measures, thereby providing maximum benefit to patients and at the same time enable people to live healthier lives. For more information: www.erasmusmc.nl