Meet

the

makers


Get to

know us

"We are humans in a machine led world, when we learn how to control the machines we work with, we become more powerful. When we become more powerful we increase our level of care and save more lives. That's why our focus is on building a symbiotic relationship between humans and machines".
-Hicham Shatou, CEO & Founder, LeQuest
PEOPLE DIE EVERY DAY DUE TO PREVENTABLE MEDICAL TECHNOLOGY ERRORS FROM INCORRECT USAGE OF MEDICAL DEVICES.
This is due to lack of effective and interactive training.
LeQuest was built to address this issue. We bridge the gap
between human skills and machine power. For this reason we
have positioned ourselves as a "humatech" company.
We are the makers of medical simulation technology.
Been in business for more than ten years
Over 200,000 hours of technical engineering experience
Over 100,000 hours of active learning development experience
Worked across 60 markets and 16 languages
Our current experience is in: surgical equipment, diagnostic imaging, fertility, infusion pumps, patient monitoring, anaesthesia, respiratory devices, auto transfusion, endoscopy, ophthalmology, EMG monitoring and more.
Our ultimate goal is to make LeQuest the worldwide standard active learning platform for medical devices.
Success Story
LeQuest enables 96% handover time saving
Customer:

DUTCH HOSPITAL, 15 ORS, 80 ANESTHESIOLOGISTS
Objective:
Reduce time of face-to-face training between application specialists and healthcare professionals
OUTCOME:
Time significantly reduced for introduction of new anesthesia ventilation device: from 44 hours to 20 hours (55%) for the application specialist. Healthcare professionals saved 188 hours in face-to-face training, replaced by a total of 80 hours self-study (not replacing productive hours).
Impact:
A 46-55% handover time saving for the medical device company and up to 96% time saving for healthcare professionals.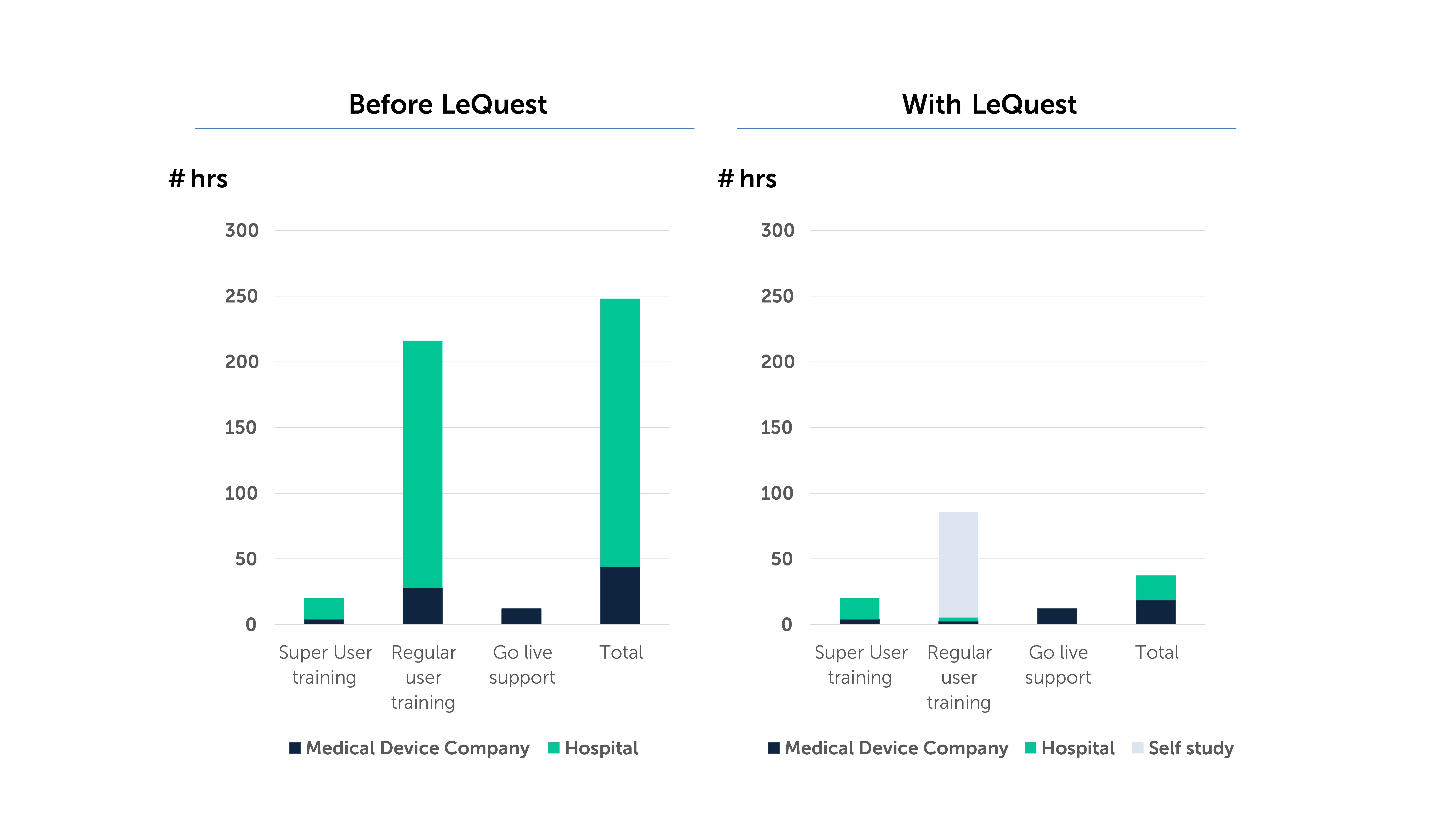 Success Story
LeQuest reduced implementation period of new C-Arm with 80%
Customer:

DUTCH HOSPITAL
Objective:
Shorten the duration of onboarding, accelerate the commissioning of the device and certify healthcare professionals in line withregulations and legislations.
OUTCOME:
All OR healthcare professionals completed the digital simulation training and were certified in the safe use of the device before the face-to-face handover of the mobile 3D C-Arm at the OR department.
Impact:
The education time by the two application specialists was condensed from 15 to 3 days. Yearly re-certification process was installed. Average time in training for re-certification was just 17 minutes.