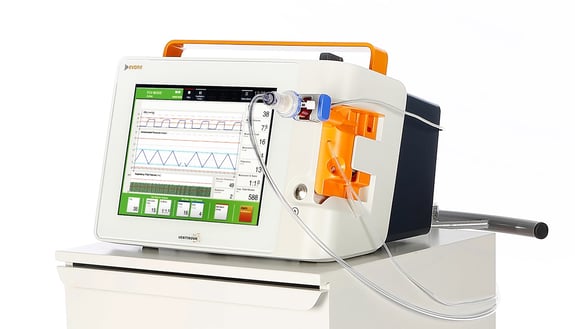 LeQuest

and

Ventinova

Medical create an integrated

Covid-19

 

crisis essential

e-

training

to help in the pandemic
We are proud to announce our collaboration with Ventinova Medical to develop a unique online simulation-based e-training for the Evone. This collaboration will help to speed up the process for medical professionals to gain the necessary training to work with this one of a kind ventilation device. This e-training is beneficial for medical professionals who quickly need to acquaint themselves to use the Evone.
According to Ventinova Medical: "This training explains the use of Evone in an attractive and easy way. So, you can quickly get started with this unique device to improve the care for your patients.''

What does

e-training

for

Evone

focus on?
The e-training is intended for Intensivist, Anaesthetists, IC and Anaesthesia Nurses who want to work with Evone. Our new e-training with Evone is specifically designed around the ICU and has been customized to meet the needs of medical professionals who are working with this dynamic and stressful environment during the Covid-19 crisis.  The content of the e-training covers Evone ventilation essential basics, including connecting, starting ventilation, and stopping ventilation, in addition to ICU specific setting adjustments and workflow.  This is to ensure that we can quickly train ICU staff on the necessary ventilator knowledge and competences during this challenging time. 
Watch the video for a sneak preview of the e-training Essential e-training Evone
Redefining ventilation training
In just a few weeks, we managed to develop this crisis essential e-training. The content is offered in a more free format than our regular e-trainings. This allows trainees to easily search for content and to choose which content is relevant to them to learn and practice. In this way they can benefit from a fast training process in these hectic times. Of course, the e-training still provides assessments for trainees who want to prove their knowledge. 
The e-training is easily accessible, available in different languages, and the trainee can access this anytime and anywhere. Without the need to travel for classroom training. With our instant, realistic simulation e-training, they will be able to practice using the device in a safe environment and without the need to take the Evone ventilators out of the operation in these times of shortage. 
In the future we are looking forward to develop a 'complete' LeQuest e-training including the full potential of the Evone ventilator and certification.
Unique Collaboration
As we approach the roll out of the Evone crisis essential e-training, we already look back on a positive collaboration with Ventinova Medical where we pushed ourselves to new limits.
LeQuest is looking forward to medical professionals being supported by this online simulation-based e-training of the Evone, equipping them with the resources and knowledge they need to perform their duties while focusing on what matters the most: ICU patient care and recovery.
Should you have any specific questions or want to join us on our mission please do not hesitate to contact us. 

About Ventinova Medical 
About Ventinova Medical  Ventinova Medical BV is a Dutch company specialised in innovative ventilation products. Ventinova has been working on the disruptive ventilation method FCV® since 2008, with a prototype marketed in 2010 and a complete concept since 2018. This technology controls both the inspiratory and expiratory phases of mechanical ventilation and this is extremely effective. Ventinova has 21 employers working from its head office in Eindhoven to export its products to 22 countries worldwide.